2018-2019 Year of the Year Opencart Themes
You are thinking of setting up an e-commerce site, but do you think you would like to sell it on a professional e-commerce site? In this article, we will tell you about the affordable and professional-looking Eniyi Opencart themes that we can use in the OpenCart infrastructure, which is a free ecommerce script.
In addition to multi-purpose templates, you'll find our OpenCart themes for kids, ready-to-wear, souvenirs and other types of retail. SEO-compatible and coding that will help increase the speed and sensitivity of your site and the speed and use of your site for high-performance optimized themes have been considered.
Future e-commerce transaction volume will continue to increase. It is predicted that by the year 2020, you will reach $ 27 trillion levels, according to the predicted growth figures, if you are already here, you know this growth potential and you are a part of it. As a result, you already have an OpenCart as your e-commerce platform and you plan to have it.
Instead, I'll focus on the things that will help you find the growth you need in your ecommerce store. We'll start focusing on your website's visitors first and hopefully our customers will notice when they visit your stores.
While we were talking about this subject, we chose professional themes, especially demos, that you can buy and sell directly and have high level of support. Now let's come to the 3 best OpenCart themes of 2017 and 2018.
This will cover the best OpenCart theme recommendations for your site that you can buy in 2018. These themes usually do not have to be on the market lately, they just do not look great. We do our research in very different areas.
Porto is a highly customizable, easy to use and fully responsive Ultimate Responsive Opencart Theme. It is suitable for all types of businesses, portfolios, blogs and e-commerce sites. It is a great choice as a starting point for your special projects. Porto looks great on mobile devices and tablets with 20 different demo concepts and looks.Imagine the possibilities and peace of mind...designing your promotional banners or sliders, or entire product modules that only show up on specific dates and are disabled automatically whenever you don't need them anymore.

When you choose Porto for your website, you will never be disappointed! & Nbsp; Before you begin, please contact us for purchasing and installation steps. We provide you with all kinds of good information outlines and we provide you with all the details that will make it easy for you to use the Porto theme. We can provide you with all your purchasing and installation procedures for your Porto contact. We will complete and deliver all kinds of transactions such as installation and general settings, security settings, Turkishization processes from the purchasing stage, with our customer satisfaction priority.
---
2. LaParis - Simple Creative Responsive Opencart Theme

Leave an impression on your ecommerce site. Provide an impressive experience for visitors. Increase your sales with our design. It is a lightweight and very conceptual OpenCart-based and you can create multiple sales stores. It is a great choice for freelancers working with a large number of customers in different sectors. The theme is pre-designed demos for fashion, electronics, furniture, watches, flowers and cosmetics stores. That's right, all these different websites can come up with a powerful theme.

Each designer and developer can create pages with a theme that comes with drag and drop page builder. Even beginners can create professional shops.
---
3. Begito - Çok Amaçlı OpenCart Teması

Begito OpenCart theme is easy to install and customize, choose to launch your online merchandise. & Nbsp; Scrolling images come with explanatory text. & Nbsp; Keep all necessary pages organized using the Horizontal Mega Menu, this option will provide a smooth view of your online store. An ideal and stylish Opencart theme for creating a fashion store, souvenir shop, mobile store, apparel store, fashion industry related projects and much more .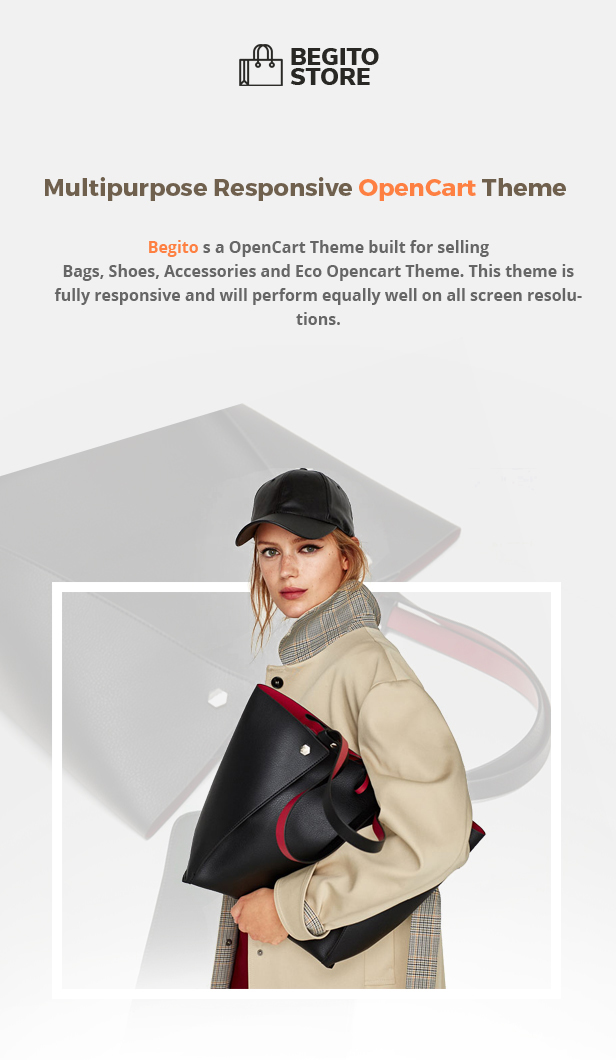 You can even enrich your example with your personal touches. You can also create a custom design and update it by changing the existing one.
OPENCART INSTALLATION AND THEME INSTALLATION
E-commerce sites offer unique Sapphire E commerce packages with professional support, services and advanced infrastructure in terms of shopping site design. Start e-commerce with affordable Sapphire E-commerce software and packages at affordable rates. You don't need to pay big bucks for your shopping site.
---
We complete and deliver all kinds of transactions such as installation and general settings, security settings, and Turkishization processes from the purchasing stage you like and want to receive, with our customer satisfaction priority.